In order to use feathers from
my mom's free-roaming hens
in my designs, I first have to put them through a sanitization process so that all of the farm yuckies don't end up in my customer's hair. Here's how I clean them:
These are feathers collected over time by my mom and I. Feathers constantly fall off of my mom's Guinea Hens as they are running around and we pick them up off the grass.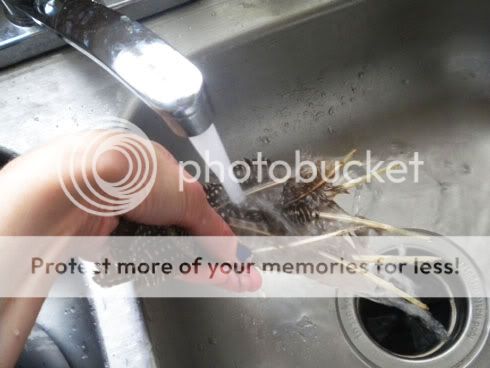 First I rinse them in warm water to remove debris= grass, hay, mud, and sometimes even dried guinea poop. Nice.
Into a pot of boiling water they go...
Stir, stir, stir for quite awhile. Boiling cleans and kills any germs that may remain.
When I remove them from the pot of water they are in a soaking wet heap.
I smooth out the feathers one by one...
....and lay them out to dry on cotton towels.
After 24 hours or so, the beautiful feathers are clean, dry, and naturally fan out a bit....
...and they are ready to be made into funky hair accessories!