I should probably call this "Dan's Container Garden" because he planted it while I was preparing for my craft show last weekend. I contributed a little by dumping the candy out of an aqua easter bucket we had and drilling holes in the bottom so he could use it to plant the Jalapenos. There are also Tomatoes, Tarragon and Basil working to take root in our back yard containers this week.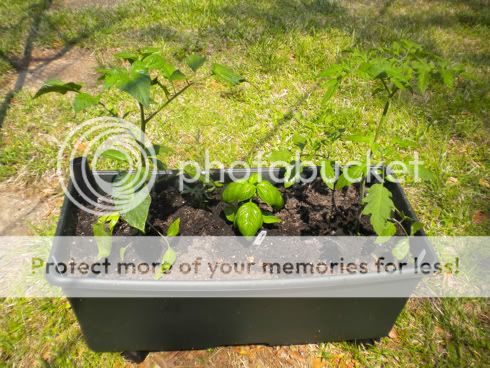 Garden DRAMA!
The maintenance guy at our apartment already informed us that we "cheated" by buying the plants already started. I think he was a little jealous of the greenery because he told us that his own jalapeno seedlings were still working to sprout up. When I told him it was our first garden and we bought the plants already started he felt some relief
and then
in a condescending tone he said "Well, starting from seeds is just how I prefer to do it." SNAP!